spanish & catalan voiceover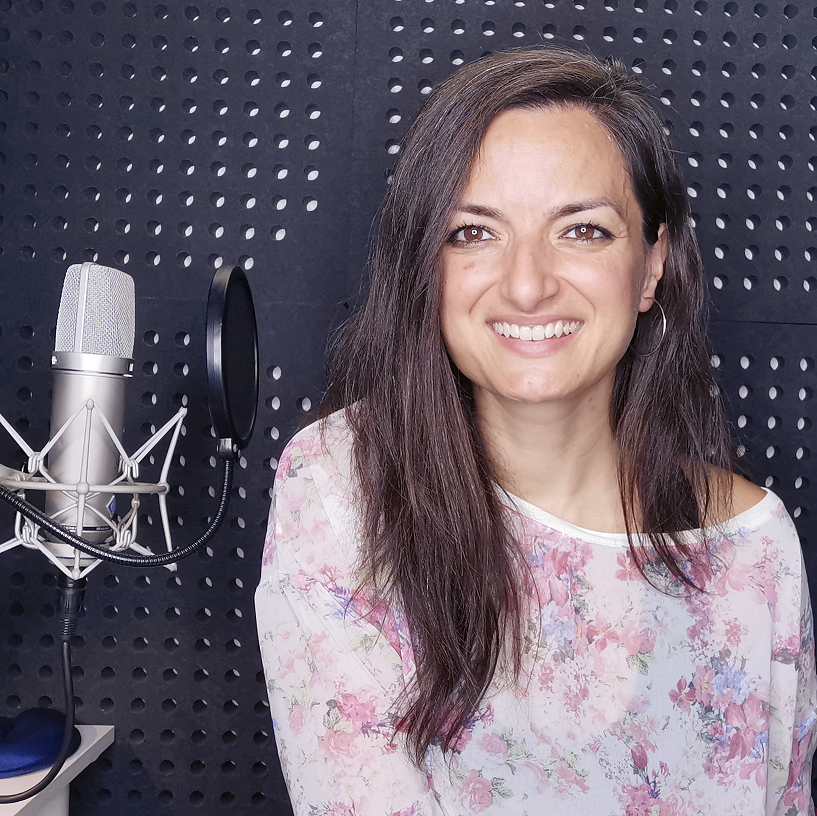 Organic Urban

Sound

.
Yoga Vibes Inspired.
Bright Healthy

Voice

.
THE SUN SALUTATION ON VOICEOVER SOLUTIONS
HI THERE, I AM MEGUI!
I am an European Spanish (Iberian or Castilian) and Catalan full time voiceover talent with over 15 years experience providing recorded voiceover services worldwide from Barcelona, Spain.
I have lent my organic urban sound, yoga vibes inspired and bright healthy voice to numerous international TV, radio and online advertising campaigns, corporate videos and narrations.
I can record by my own from my full equiped studio: Neumann u87 Ai, Avalon v5, Protools Duet by Apogee, Protools 12 and Studiobricks cabine. And I use Source Connect Now, Skype, Zoom or Session Link Pro for live remote sessions.
I love to communicate the real truth of your project and I do my best to give a touch of authenticity, honestity and happiness on your voice over.
I would love to work with you on your project. So if you need a voiceover who understands how to convey your message with professionalism, commitment and sounding real, I am here to help you shine with our online coworking.
listen to my EUROPEAN SPANISH VOICEOVERS
here you have some recent CATALAN VOICEOVERS
She's a top voiceover talent and very easy to work with. Nice, very professional, extremely fast to deliver, with attention to detail... What else could you ask for? I'm sure we will work with her again!
Megui is a great Spanish voice for all kind of productions, since she can deliver you script in all kind of tones and moods for flawless results.
Megui has a great voice! The audio quality is great and the turnaround time is quick. Megui has provided quality voice over recordings for various applications during our long working relationship. Voice over recordings have been for corporate videos, commercials, app prompts and much more. It is always a wise choice to work with.
Megui did a great job. We wanted a neutral yet enticing Iberian accent for a video. She was a pleasure to work with, with the VO executed quickly and efficiently and at a good price. We will work with her again.
It's never been so easy for me to work with a voice talent. Thank you Megui!
The work was delivered professionally and we got the product soon after the order. Our requested changes were made within a few hours. The final result is great.
I WORK WITH PRODUCERS, MEDIA, AGENCIES, FREELANCERS AND ENTREPRENEURS
YOU HAVE HEARD MY VOICE IN CAMPAIGNS OF…
How Can I Fit your Needs on Your Voice Over Project?
For testimonials or voiceovers for TV spots, internet or business, my voice is inspirational, urban and healthy. Your girl next door or personal narrator for the most important messages.
I offer a warm and explanatory tone for corporate scripts, with a very formal narrative style. And I can also be sophisticated and elegant on my reading.
I can also give an evocative path to your recording, I can be chic, delicate and I can offer you a glamorous touch.
Do you Need to Download my Demos?
Select the audio you want to hear and download it by clicking the Download button.
WHAT IS THE STYLE OF YOUR VOICEOVER?
INSPIRATIONAL, FRESH, URBAN, HEALTHY, FORMAL, ENERGETIC, DISTINGUISHED, CLOSE, WARM, ELEGANT, INSTITUTIONAL, KIND, SPONTANEOUS, EXPLANATORY, PROFESSIONAL, EVOCATOR, TEACHING, NARRATIVE, CHIC, CORPORATE, CONFIDENT, POSITIVE, TESTIMONIAL …
YOU PRODUCE IT TOGETHER.
Take a look to my professional home studio!
Ready to go on our next voiceover project.
A PROFESSIONAL VOICE FOR YOUR PRODUCTION
discover my premium voiceover service
More than 15 years of experience
high quality sound studio
online recording and live sessions
no INTERMEDIARIES AND TOTALLY TRUST
QUICK AVAILABILITY AND TURNAROUND
PRICE QUALITY RELATIONSHIP
NEED A QUICK QUOTE?
Let me know your name and email address and we'll be talking by email about your voiceover work in minutes.
Receive my custom offer, fully adapted to your audiovisual project.
Confirm the purchase and, depending on the length of the script, your voiceover recording will be ready in less than 24 hours.
So EASY and super PROFESSIONAL!
Tell me in which email you want to continue the conversation and we'll get back to you asap. Thank you !
Once you accept, a window opens  and you have to click on 2 boxes to confirm that you want me to process your data securely.
By doing so, I receive your quote request and you sign up to my Voiceletter with great content for producers. It's made with a lot of love! You unsubscribe with one click. And you also agree to the Privacy Policy of the website.